MIKI DORA – EDITORIAL – CHRIS NELSON
THE IDEA
Chris Nelson was commissioned to write a series of insightful features on surfing's greatest cultural icons.
THE RESULT
Written by Chris Nelson, the four page features ran as a series across seven issues of Adrenalin Magazine accompanied by original artwork by Paul Willoughby.
Featured surfers included Miki Dora, Tom Blake, Mark Richards, Michael Peterson, Kelly Slater, Tom Curren and George Greenough.
THE APPROACH
Chris was commissioned by Adrenalin to write a series of features exploring the lives and impact of iconic surfers and their influence on the wider surf culture. Drawing on his wide surf knowledge, Chris brought to life these surfers tales through a series of deep dive, four page essays exploring the social, historical and cultural contexts with a distinctive, stylised narrative.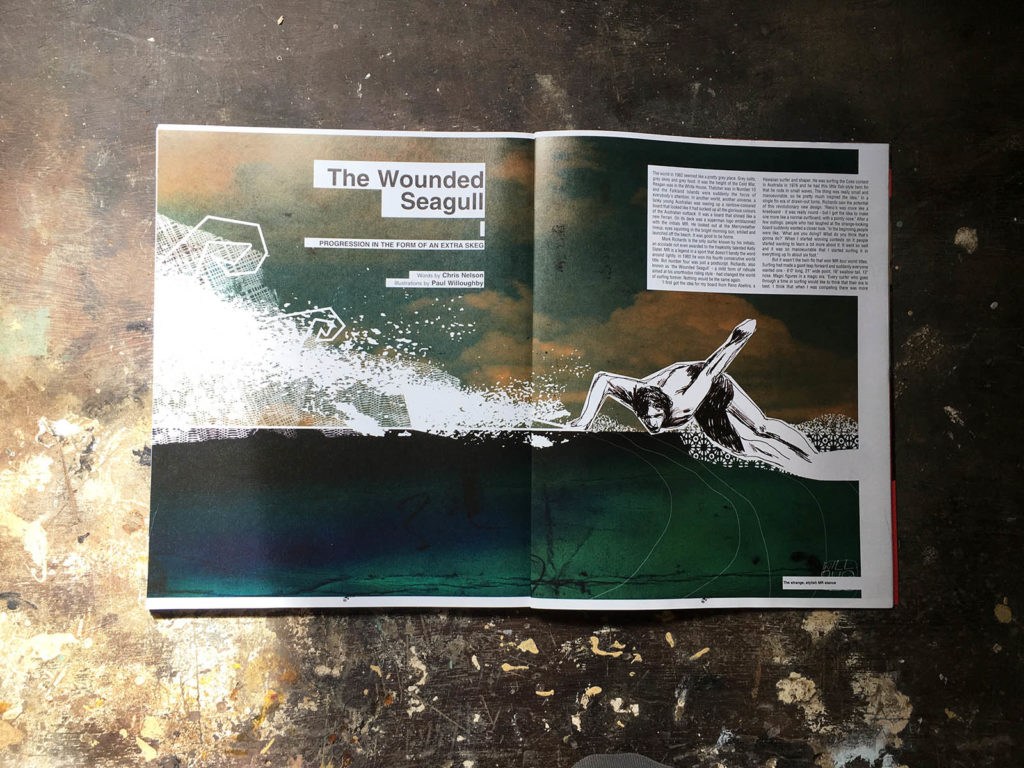 Miki Dora – Da Cat that walked by himself (an excerpt)
The first thing I notice is the wave of nausea. Peripheral vision bleaches from total blackness through a spectrum of pain until a piercing harsh white fills my field of view. As my brain is slowly becoming accustomed to the blinding light, a beaver-skin hat enters stage left and blocks out the sun, allowing me to focus on the face peering down at me. The huge fur hat is balanced by the grey beard. Tanned, aged skin is wrinkled in the glare, his young eyes are edged with concern. "You OK?" he says kneeling. "Missed my fucking landing," I reply, propping myself up on my elbows. Dora unclips. "Take your time," he says. In the three days we'd been in the Alps, there had been a lot of silences, comfortable and uncomfortable, interspersed by a collage of stories and thoughts. He sits down in the snow. "You know I like golf? They got me a round with Kelly Slater. Afterwards he gave me a brand new set of Callaways. When they'd gone, I threw them in the lake." Another enigmatic story tossed into the staggeringly beautiful Alpine valley below. A challenge – interpret it as you will. If you get it, good. If you don't, I don't give a damn.